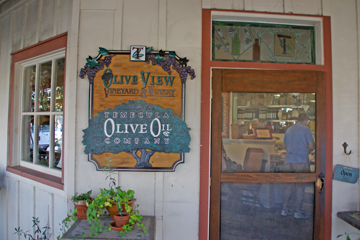 Temecula Olive Oil Company
Temecula, California
by
Kathy Sullivan
You will know you have reached Old Town Temecula when you see the large ornate arch proclaiming Temecula Est. 1859. The town has been carefully restored and is reminiscent of a town in the Old West. Walk along the wood walkways of this quaint small town in Southern California. Discover unique shops and restaurants including antique shops, wine tasting rooms and rustic boutique shops. One of the unusual shops is the Temecula Olive Oil Company.

The Temecula Olive Oil Company store offers visitors and residents the opportunity to participate in an olive oil tasting.
The shop is divided into two sections with the first section offering a variety of items for sale that include carved olive wood, soaps and gourmet foods. Visitors arriving for an olive oil tasting will be directed to the adjacent section where a counter displays numerous olive oils available for tasting.

The company was formed in 2001 and is family owned. The olive groves, also family owned, are farmed using sustainability practices. More than 35 olive tree varieties are grown on the California ranch.

The bottled olive oil is dated by hand so that consumers know they are buying fresh olive oil.

Unique Aspects of the Olive Oil

1. The olive oils are produced from 100 percent California olives.

2. Olive oils are 100 percent organic.
3. Olive oil production includes handpressing.

4. The olive oils are 100 percent extra virgin olive oil.
5. Each bottle is hand labeled with the date providing consumers with valuable information.

Olive Oil Club
Members of the free Olive Oil Club have access to Limited Release seasonal olive oils. Recipes are included with the Limited Release olive oils. After joining the Olive Oil Club, members receive a 10 percent discount on purchases.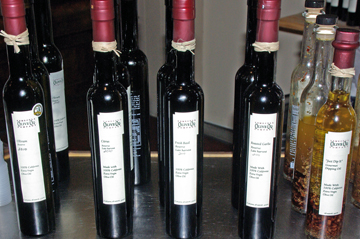 Temecula Olive Oil Company Products

Olive Oils:

Rosemary Reserve Olive Oil – Late Harvest
Citrus Reserve Olive Oil - Late Harvest Made with Fresh Blood Oranges
D'Luscious Lemon Olive Oil
Fajita Frenzy Olive Oil Made with Fresh Limes
Fresh Olive Oil
Habanero Reserve Late Harvest
Hickory Smoked Olive Oil
Le Caprice de Nature Olive Oil
Molto Burrosa "Very Buttery" Late Harvest
Olivum Reserve Late Harvest Olive Oil
Picante Pepper Olive Oil Made with Fresh Jalapeno Peppers
Roasted Garlic Reserve Olive Oil – Late Harvest
Rotture di Oro Olive Oil – Fall Harvest
Temecula Valley Blend Olive Oil – limited release-Spring availability
White Truffle Olive Oil
Artisan Foods

Balsamic Vinegar
Bath & Body

For the Home

Availability of Temecula Olive Oil Company Products
Four Retail Locations:
Temecula Olive Oil Company
28653 Old Town Front Street
Temecula, CA 92590

Temecula Olive Oil Company
2754 Calhoun Street
San Diego, CA 92110
Temecula Olive Oil
342 S. Cedros Ave.
Solana Beach, CA 92075
Temecula Olive Oil
148-C Main St
Seal Beach, CA 90740
Online:
The Temecula Olive Oil Company's website has a shopping cart. Numerous items are available online.