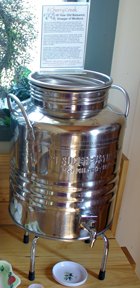 Traditionally many people think of vinegar as cider vinegar produced with apples. Today more types of vinegars are produced. These include balsamic, wine, malt, and rice vinegars. More obscure vinegars include plum, coconut, cane, sherry, and date vinegars.
Types of vinegar have been around for centuries. It is even mentioned in the Old Testament and the New Testament. Writers have written numerous books about vinegar including: Vinegar: 1001 Practical Uses by Margaret Briggs, The Vinegar Book by Emily Thacker, Vinegar: 1001 Practical Household Uses by L&k Designs, and Balsamico!: A Balsamic Vinegar Cookbook by Pamela Sheldon Johns.
A few wineries visited have containers of balsamic vinegar. The item pictured was used for self-serve balsamic vinegar. Customers brought their own container and paid by the ounce.
Keep coming back to this site to discover the world of vinegar including history, production, uses and recipes.
---