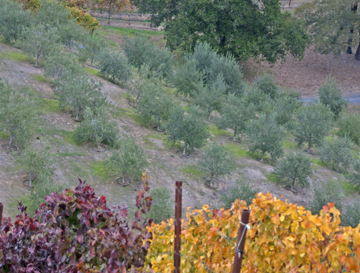 Dry Creek Olive Company
Healdsburg, California
by
Kathy Sullivan
Tim Bucher, a busy entrepreneur, who owns Trattore Farms Winery, owns Dry Creek Olive Oil Company. At the olive oil company the emphasis is on "soil to oil." Olives are grown on 15 acres, milled and bottled at the tasting room facility. This successful olive oil company will have a new home in Summer 2012 not far from the current tasting room. Olive oils are bottled direct for the consumer. Dry Creek Olive Oil Company provides custom milling.
New Olive Oil Center
The new Dry Creek Olive Oil Company center will offer visitors the opportunity to taste olive oils and wines. The large granite milling stones and equipment will be moved to the new facility. Custom crush already taking place at the current tasting room will continue at the new facility.
Olive trees are planted within viewnof the new olive oil tasting room. Current groves occupy 15 acres. When Bucher bought the property, there were old olive trees growing. Estimates are that those trees are 100 years old. The trees include Mission olive trees. Tim has added new olive trees weaving them in with his vineyards. The new tasting room and olive oil facility will be a destination site including cooking classes.
Harvest and Milling Olive Oil
At harvest time all olives are hand picked. The Dry Creek Olive Company mills its own olives using the cold press method. Large granite stones in the facility add to sense of old time olive oil making but at a closer look one will note technology is a major component of the processing with buttons and controls.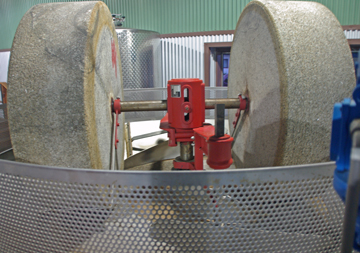 Dry Creek Olive Company
4791 Dry Creek Rd

Healdsburg, California 95448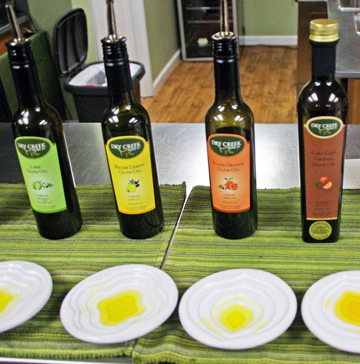 Dry Creek Olive Company Products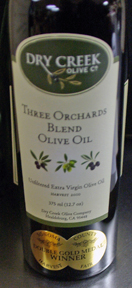 Three Orchards Blend
Healdsburg Blend
T. Bucher Family Estate
California Tuscan
Cara Cara Orange
Olio Nuovo
Blood Orange
Tangerine Olive Oil
Meyer Lemon
Lime Olive Oil

Vinegar Products
Pomegranate Vinegar
Balsamic Vinegar

Olive Oil Steps
After harvest the first step is to weigh the olives. The olives go up a hopper and are cleaned leaving only the olives. The olives proceed to the stone mill or hammer mill. The result is the olive pomace which goes to the maloxation chamber that is temperature controlled at 76 degrees F. A centrifuge separates the water from the oil.
During the olive oil making process, those olive oils that will be specialty oils are milled with the fruit. The olives and fruit are cold pressed together. They believe that putting the fruit in with the olives creates a higher quality olive oil compared to using the "infusion" method.
One of the unique items mentioned while visiting Dry Creek Olive Company is that each year Tim Bucher does a community turkey roast in olive oil.
While visiting Dry Creek Olive Oil Company we tasted a few of the many types of olive oil available. The Three Orchards Blend Olive Oil offered notes of olive with a hint of green apple and a bit of pepper. California Tuscan Oil offered peppery nuances. As its name suggests Meyer Lemon had a lemony skin flavor. Tangerine Olive Oil had a strong and delightful tangerine aroma and taste. This would be delightful on a green salad.