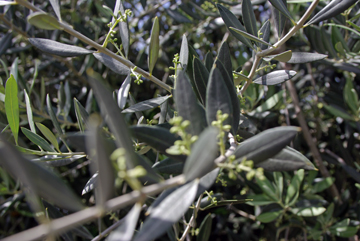 Round Pond Estate
Rutherford, California

by
K. L. Sullivan
Summary: Located in Napa Valley, Round Pond Estate produces wine and olive oil. With olives from more than 2,000 olive trees, Round Pond Estate produces extra virgin olive oils. The olive mill produces both Italian and Spanish-style olive oils. Round Pond has both a stone mill and a modern hammer mill available for milling. With their own onsite mill, the handpicked olives reach the mill quickly thus ensuring the best quality olive oils.
Olive Varieties
Round Pond olive orchards include Spanish and Italian olive tree varieties. Spanish varietal olive trees include Mission, Manzanillo, and Sevillano. Varieties of Italian olive trees include Leccino, Pendolino, Maurino, Frantoio, and Coratina. Italian olives are the first to be harvested followed by the Spanish varieties.
Olive Oil Production at Round Pond
Olives are hand harvested into portable bins. After harvest the olives are quickly taken to the onsite olive mill. Each olive variety is kept separate during milling. Upon reaching the mill the olives are washed in a spinner to separate the stems and leaves from the olives.
Italian olives are milled by the hammer mill that crushes the pits and fruit. A stone mill crushes the Spanish olives. After this procedure is completed the paste is kneaded. Next the kneading the paste enters a centrifuge that separates the oil and the water from the solids. The solids will be used for compost. A second centrifuge separates the oil and the water. The final aspect of the olive oil production is the blending of the olive oils. Once completed the olive oils are kept in stainless steel under nitrogen in order to prevent oxidation of the oils. Bottling takes place on demand and ensures freshness for consumers.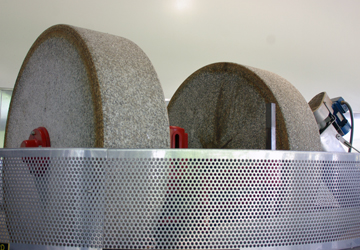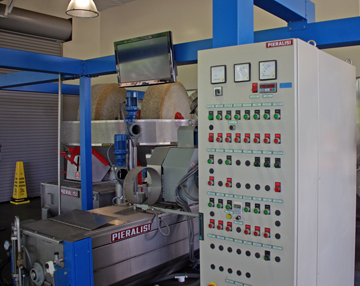 Round Pond Estate Products

Olive Oils
Italian Varietal Extra Virgin Olive Oil
Spanish Varietal Extra Virgin Olive Oil
Blood Orange Olive Oil
Meyer Lemon Olive Oil
Garlic Olive Oil
Rosemary Olive Oil
Basil Olive Oil
Vinegars

Cabernet Merlot Vinegar
Sangiovese Nebbiolo Vinegar
Wines
Round Pond Estate also produces quality wines and offers a delightful experience at their nearby winery and vineyards. A review is available at http://winetrailtraveler.com/california/roundpond.php .
Five Round Pond Clubs
Round Pond Estate offers five Clubs. Two of the clubs, the Wine & Food Lover's Club and the Food Lover's Club shipments include olive oils.
1. Food Lover's Club
2. Wine & Food Lover's Club
3. Wine Lover's Club
4. Red Wine Lover's Club
5. Case Lover's Club
Round Pond Estate
886 Rutherford Road
Rutherford, CA 94573