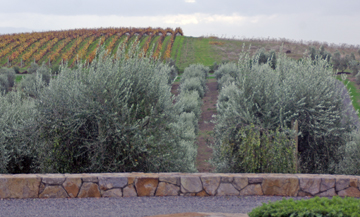 Talcott Olive Oil Company
Napa, California
by
Kathy Sullivan
Driving through Napa Valley countryside with thousands of vineyard acres in view, travelers will begin to see the grayish green leaves of the olive trees. Visitors, with an appointment, will find their way to the Talcott Olive Oil Company. The tasting is located in a spacious home atop a hill with olive groves on the hillsides. Travelers will want a camera to capture the absolutely beautiful views of the landscape including vineyards, olive groves and distant vistas.
Talcott Olive Oil Company is a discovered passion for Patricia and Jim Talcott. In prior careers, Jim was an orthopedic surgeon and Patricia was in charge of a hospital operating room. At one point after owning and selling wineries, they decided to become involved in olive oil production.
Several years later they have 3,500 olive trees on 10 acres of land. Currently production is at 450 cases. As the trees grow older and the harvest increases, the Talcotts expect to increase olive oil production to 780 cases. In determining which olive varieties to grow, the Talcotts chose Tuscan varieties because they have more phenols. At harvest time, the olives are handpicked and then taken to a mill to be processed. In just a few years, the Talcotts have made great strides in the olive oil industry with their oil Certified Extra Virgin Olive Oil by the California Olive Oil Council.
.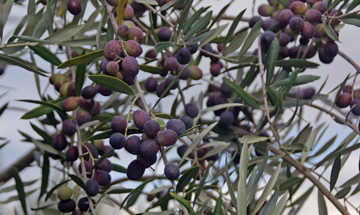 Talcott Olive Oil Tasting Experience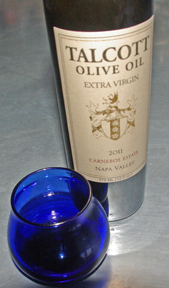 A very special olive oil tasting takes place. The Talcotts invite you into their kitchen equipped with a stainless steel counter with seating where visitors can enjoy views of the olive groves and nearby vineyards. Patricia and Jim are charming and friendly, easily sharing their story of the Talcott Olive Oil Company. Our tasting ended with their Sweet Endings Ice Cream. The dessert included three scoops of vanilla ice cream. Olive oil was drizzled over the ice cream and and a little sea salt and cracked pepper was added. Initially one might think the combination would not work, but it was delicious and a delightful way to add olive oil to your diet.
Appointments are necessary and a minimum of six people must attend. After contacting the Talcotts for an appointment, you will receive information including directions to the Talcott Carneros Olive Ranch.
Availability of Olive Oil
The current olive oil 2011 Talcott Olive Oil Carneros Estate, is sold out. Pre-orders are already being taken online for the limited release of the 2012 Olio Nuovo Olive Oil.