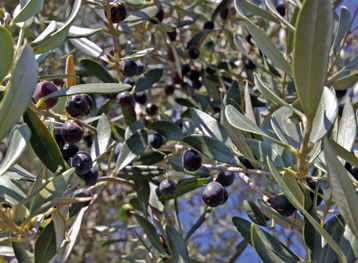 B.R.Cohn Winery & Olive Oil Company
Glen Ellen, California
by
Terry Sullivan
Wine enthusiasts stopping at the B.R Cohn Winery & Olive Oil Company in Glen Ellen, California have the unusual opportunity to taste wines and olive oils.
Visitors to the elegant B.R. Cohn Winery tasting room will discover a small white building a few steps away from the patio. Inside is the location of the olive oil tastings with numerous unusual gift selections. When Bruce Cohn bought a property in Glen Allen, California, he was told to keep the 100-year-old Picholine olive oil trees that were brought from France. The trees provided shade and a cool spot to lounge during the hotter months. However, they also made a mess on the carpet of Bruce's house when footprints added stains from the fallen olives. Bruce was left with a dilemma, buy new carpet or get rid of the olives.
Rather than cutting the trees down, he had the olives harvested and sent to an olive oil mill to have processed into olive oil. The Picholine olive oil tree is unique in California where most of the olive trees are from Spain and Italy.
Now olive trees line the road to the parking area of the B.R. Cohn Winery and Olive Oil Company. Next to the olive trees are vineyards called Olive Hill Estates Vineyard. An image of an olive branch and olives graces many of the winery's portfolio of wine labels.
Several olive oils are available including the estate Picholine as well as oils infused with other flavors such as lemon, lime or orange.
Olive oil tastings are done in a self-serve manner. Visitors take a very small paper cup and place a small piece of bread in the cup. They then drizzle olive oil onto the bread and taste. The estate Picholine was tasted using a different tasting method learned in Italy. The olive oil was placed in the small paper cup and placed in the palm of our hand. The cup was covered with the other hand and twisted between the palms. This slightly warmed the olive oil and released the aroma. Then the olive oil was tasted. The Picholine had a green apple aroma and taste. The finish had hints of citrus and pepper.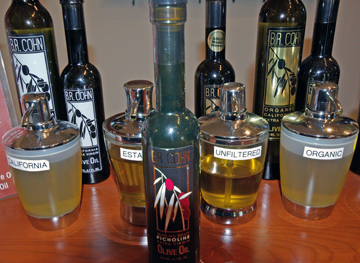 B.R. Cohn Olive Oil Company Products and Gifts
Olive Oils:
Olive Hill Estate Picholine Extra Virgin Olive Oil
California Extra Virgin Olive Oil
Lime California Olive Oil
Meyer California Olive Oil
Mandarin Orange California Olive Oil
Blood Orange California Olive Oil
Basil-Garlic California Olive Oil
Balsamic and Herb Dipping Oil
Organic Extra Virgin Olive Oil
Unfiltered California Extra Virgin Olive Oil
Tuscan Blend Extra Virgin Olive Oil
Grapeseed Oil
Vinegar
Wine Accessories

Gift Sets & Baskets
Gourmet Food

Arts and Books

Availability of B.R. Cohn Olive Oil Company Products
Retail Locations:
15000 Sonoma Hwy.
Glen Ellen, CA 95442
GPS: N38º 20.947' W122º 30.076'
Online:
Visit the B.R. Cohn Olive Oil Company's website for the online shopping cart.