Welcome to the companion Food site at the Wine Trail Traveler family of websites. Currently the food.winetrailtraveler.com focus includes cheese, olive/grape seed oils and wine vinegar. Visits to cheesemaking facilities, olive oil facilities and vinegaries with a focus on photos will be continually included to enhance website visitors enjoyment. Cooks will enjoy the variety of recipes included on the website using cheese, specialty oils and wine vinegar. Enjoy browsing this new website companion to Wine Trail Traveler.
Since we decided that if we were going to write about wine we should make wine, that same goal is set for cheesemaking and wine vinegar making.
Cheers! Kathy & Terry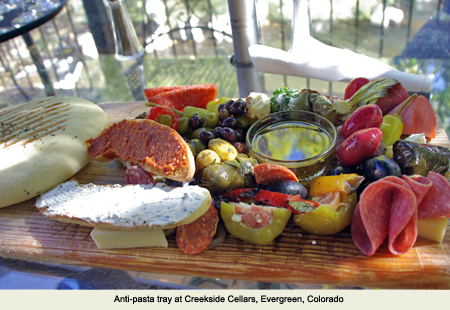 News

June, 2014

Welcome to the family of Wine Trail Traveler websites. This special companion website focuses on wine related foods including cheese, wine vinegars and olive & grape seed oils.
More than 30 recipes are in the recipe section. Each recipe uses cheese, wine vinegar, olive oil or grape seed oil. Try the very special and unusual Sweet Endings Ice Cream. It doesn't make sense, unless you think about it. All of our family and friends who have tried it enjoyed it even though they began as doubters.
We look forward to discovering more creameries, olive oil companies, and vinegaries. More articles will be added about these discoveries. Of course, more recipes will be added. Keep checking back to see what's new.
While we visited the country Georgia, we discovered their wonderful cuisine. Frequently we enjoyed an assortment of cheeses that unfortunately are not available in the United States. Sadly we realized that US regulations would not allow us to bring any dairy products back into the US. Visit the Wine Trail Traveler website to discover the world of Georgian cuisine.
Since the fall of 2012 we have co-authored three books.
Georgia, Sakartvelo: the Birthplace of Wine (2014) http://birthplaceofwine.winetrailtraveler.com
A Wine Tourist's Guide: Visiting Tasting Rooms (2013) http://awinetouristsguide.winetrailtraveler.com
A Wine Journey (2012) http://www.awinejourney.winetrailtraveler.com

Cheers, Kathy and Terry