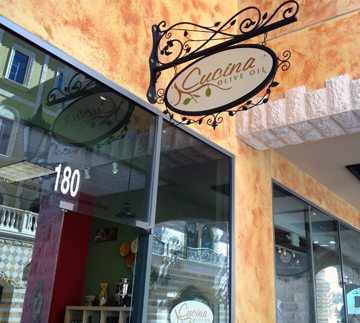 Cucina Olive Oil in Tivoli Village
Kathy Sullivan
Food lovers planning a visit to Las Vegas will want to be sure to stop at Cucina Olive Oil before returning home. The store offers an amazing number of flavored olive oils and balsamic vinegar. Visitors are encouraged to sample the vast array of extra virgin olive oils and the balsamic vinegars. The owners,Kazi and Sadia Aziz are friendly and welcoming.

The Shop in Tivoli Village
The store is a treasure of olive oils and balsamic vinegars. While a boutique store, the shop is filled with array of extra virgin olive oils and balsamic vinegars. Shelves are filled with so many styles of olive oils that its difficult to know where to begin. The olive green walls set off the bottles of olive oils and vinegars very nicely. Prints on canvas, relating to olive oil and wine, add to the atmosphere. Anyone who enjoys cooking will find it difficult to leave the store without a purchase in hand. Not because of any sales pressure; there was none. The owners are friendly and helpful. However, the aromas of the olive oils and balsamic vinegars are mouthwatering.
To facilitate olive oil and balsamic vinegar tastings, visitors are provided with petite size white paper cups. A different cup is used for each tasting.

Cucina Olive Oils

All olive oils available at Cucina are extra virgin olive oils. Visitors are encouraged to taste the olive oils. Koroneik was produced with handpicked olives in the Peloponnese. The olive oil was cold pressed. The mild finish had a long aftertaste. Corafina was produced with Italian olives. There were layers of aromas and tastes. Notes included green apple and spices with a hint of pepper on the aftertaste. Frantoio, olive oil from Italy, was very smooth.Another extra virgin olive oil was very spicy especially with notes of pepper on the aftertaste. Cucina Signature was a blend of Picrial (Australia), Arbequena (Spain), and Jojiblanca (Spain). The olive oil had green apple notes. The taste was velvety and smooth with green apple and a slight peppery aftertaste.

Unusual Olive Oils

Blood orange olive oil was produced with the infusion of blood orange in olive oil. The result was a very orangey aroma. The taste was smooth with orange and a hint of spice.
As a bacon lover, I was intrigued with the EVOO Bacon. While the taste definitely reminds one of bacon, it was not quite as good as a real strip of crisp bacon. A unique label was added to this olive oil. "No cute little piglets were harmed in the making of this oil."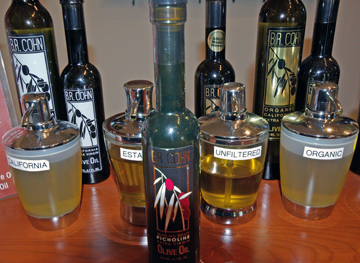 Balsamic Vinegar
Balsamic vinegars from Italy are aged 12 years and 18 years. Our preference was for the regular balsamic vinegar that had been aged for 18 years. The 18 year aged balsamic vinegar was very smooth and thick with fruity notes. The vinegar had a slight sweetness.
Products
(This product list is only a portion of what Cucina offers.)
Olive Oils

Frantoio
Tubac House(a blend of Coratina, Picual and Spanish Castile)
Arbequina
Koroneiki Greek
Arbosana
Organic

Infused Olive Oils
Bacon Olive Oil
Black Truffle Garlic Olive OIl
Blood Orange
Herbs ( a variety of herb olive oils)
Roasted Chile
Sundried Tomato & Parmesan Garlic

Balsamic Vinegars
Traditional Aged Balsamic
Tangerine
Raspberry
Garlic Cilantro
Grapefruit
Cranberry
Chocolate Raspberry
Cucina Olive Oil Store Location
410 S. Rampart Blvd, Suite #180
Las Vegas, NV 89145
Phone 702-463-2759
Email: info@cucinaoliveoil.com