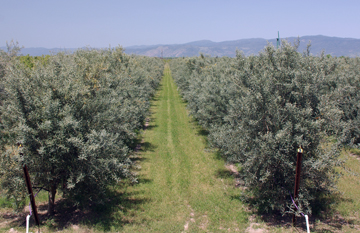 Chacewater Winery and Olive Mill
Kelseyville, California
by
K. L. Sullivan
In 2002 Paul and Kellye Manuel purchased a 10 acre olive grove and olive mill in Lake County from St. Gregory's Monastery. The olive mill became the Chacewater Olive MIll. Today all olives are hand harvested and milled on the property. The olive oil is certified CCOF (California Certified Organic Farmers.) In addition Chacewater has CCOF certification for the winery, olive mill, olive groves and vineyards.

The olive groves have several olive varieties including three Italian varieties and three Spanish varieties. Italian varieties include Allegra, Favolosa and Tuscan. Spanish varieties are Mission, Manzanillo and Sevillano. In addition, Chacewater produces infused oils with Meyer lemons and Blood oranges.

Emilio De La Cruz is the Olive Oil Mill Master. Emilio is enthusiastic about the production of olive oils. He was patient with us, as we tasted a wide range of delicious olive oils that he is responsible for producing.
Olive Oil Production at Chacewater

After harvest the olives are washed to remove materials other than olives. The next step is to use the hammer crushers. The resulting mashed mixture goes into a horizontal centrifuge and then a vertical centrifuge. Olive oil drips from the centrifuge.

Olive oil is also used to produce bar soaps. An amazing number of different scents are available. These bars of soap include scents of orange mint, lavender, cucumber, rose geranium, or almond.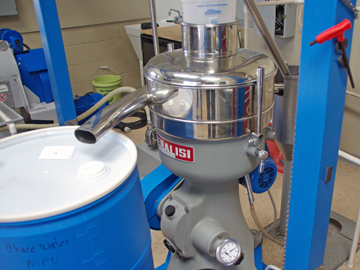 Olive Oil Tastings

Sevillano (Spanish) offered olive and apple notes. The olive oil had a long aftertaste and a very slight pepper in the throat. Mission Manzanillo (Spanish) was a dark yellow with a hint of banana and grass. Mission (Spanish) a bright yellow had notes of green apple and olives. The olive oil was soft and creamy with a very faint pepper in the throat. Tuscan Olive was a blend of four Italian varieties. The bright yellow olive oil offered olive, green apple and grass with pepper in the throat. Allegra, a bright yellow with a green hue, had green apple notes with very strong pepper in the throat. Favolosa was yellow with a green hue and brought about memories of hay. Blood Orange was produced with crushed oranges and Mission olives. The yellow olive oil was like fresh oranges with a hint of pepper in the throat. Meyer Lemon Olive Oil was yellow with strong lemon flavor and a hint of pepper in the throat.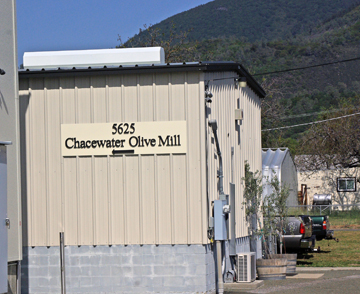 Chacewater Products

Olive Oils

Chacewater olive oils are available online, in the tasting room and through the Olive Oil Club.

Allegra Extra Virgin Olive Oil
Favolosa Extra Virgin Olive Oil
Mission Manzanillo Extra Virgin Olive Oil
Sevillano Extra Virgin Olive Oil
Tuscan Extra Virgin Olive Oil
Blood Orange Olive Oil
Meyer Lemon Olive Oil

Additional Chacewater Products

Red Wine Vinegar
Scented Olive Oil Soaps
Chacewater Wines
For information and a review of Chacewater quality wines visit the Wine Trail Traveler website.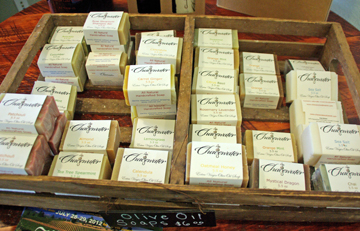 Three Chacewater Clubs
Chacewater offers three club alternatives.
1. Chacewater Olive Oil Club
includes 8 bottles shipped annually
2. Chacewater Wine Club
includes 8 bottles shipped annually
3. Chacewater Premier Club
includes 4 shipments of 2 bottles of wine and 2 bottles of olive oil shipped annually
Contact Information

Chacewater Winery and Olive Mill
5625 Gaddy Lane
Kelseyville, CA 95451

Hours: Saturday
Other days: Appointment only
GPS: N38° 58.936' W122° 50.078'