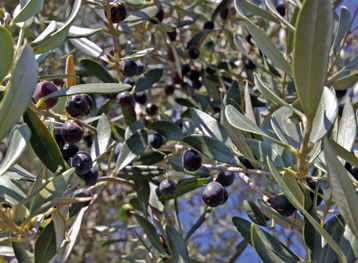 Book Review by K.L. Sullivan
Extra Virginity: The Sublime and Scandalous World of Olive Oil
Author: Tom Mueller
Extra Virginity: The Sublime and Scandalous World of Olive Oil
Author: Tom Mueller
Publisher: W.W. Norton & Company, Inc.
Price: $25.95/hardcover
Copyright: 2012
Pages: 256
ISBN: 978-0-393-07021-7

About the Author, Tom Mueller
Mueller who lives in Italy writes for publications including the New York Times. In October 2007, Mueller wrote, "Slippery Business," an exposé of the olive oil business for the New Yorker.

Extra Virginity: The Sublime and Scandalous World of Olive Oil is a deep, concentrated look into the vast world of olive oil production. At the beginning of the book, Tom Mueller visits a small family owned olive grove and extra virgin olive oil maker. It is in this section that it is revealed the amount of work and cost of producing "real" olive oil. According to Grazia, a family member, a liter of oil at 8 euros hardly covers the cost of producing the real olive oil.

Olive oil fraud is rampant. Mueller makes it clear that it is far too easy for extra virgin olive oil to have cheaper oils added and despite regulations the oil is still labeled as extra virgin olive oil.

Several point made in the book include:
Real extra virgin olive oil is expensive to produce.
Olive oil is shipped into Italy and labeled and mislabeled.
Real extra virgin olive oil is healthier for people.
Frequently other cheap oils are added to extra virgin olive oil and this is NOT noted on the labels
Extra Virginity also touches on the health difference between extra virgin olive oil and other olives that are older, not as well made or combined with seed oils.
Mueller has done extensive research and interviewed many olive oil producers and sellers to discover the inside story of extra virgin olive oil. Readers of this intense view of olive oil will come away with the knowledge that what is on the label is not necessarily in the bottle. The attitude on many producers and bottlers is "let the buyer beware."

How the olive oil industry is influenced by big money and politics is well explained in this 256-page book. The book is divided into seven chapters with a prologue, epilogue, glossary and appendix. The appendix includes tips on how to choose good oil.

If you use olive oil at all I highly recommend this book. Do you really have extra virgin olive oil on your kitchen shelf?