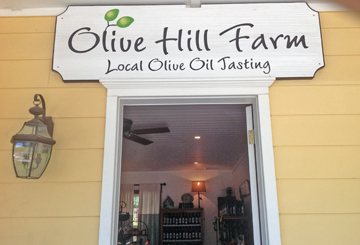 Olive Hill Farm
Los Olivos, California
by
Kathy Sullivan
After visiting several wine tasting rooms in the small village of Los Olivos in Santa Barbara County, California, our last stop for the day was the Olive Hill Farm shop. This quaint gourmet shop is easily found in the middle of Los Olivos and is connected to an adjacent wine tasting room. This is a perfect boutique gourmet shop to visit while taking a break from visiting the many wine tasting rooms in this small town.
The boutique olive oil store offers a variety of locally produced olive oils. Olive oil varieties tasted included: Lucca, an Italian blend, Arebequina and an organic blend.
The Olive Hill Farm shop also offers balsamic vinegars and numerous other gourmet products. When visiting the shop look for honey, olives and pickled vegetables.
Olive Oil Tasting Notes
The Olive Hill Farms Lucca offered notes of pepper and apple. The olive oil had an aftertaste that was buttery. Fiqueroa Farms Organic Estate Blend had notes of apple with a hint of pepper. The mouthfeel was velvety with a buttery taste. The aftertaste had a hint of pepper. Rancho Olivos was an Italian blend that offered notes of apple and pepper. The taste was short and buttery. The olive oil had a strong pepper aftertaste. Rancho Arebequina Spanish had green apple notes. The mouth feel was silky with a taste of butter. The aftertaste was mild. Balzana was mild with grassy notes and earthy tones especially mushrooms. Figueroa Farms Italian Varietals offered pepper and green apple notes and a peppery aftertaste.
Address:
Olive Oil Farms
Local Olive Wine Tasting
2901 Grand Ave
Los Olivos, CA 93441

Hours: Open Daily 11 to 5pm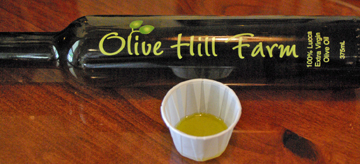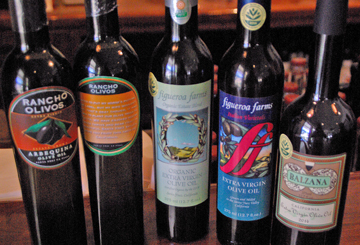 Products
Extra Virgin Olive Oils
Olive Hill Farm, 100% Lucca Olive Oil
Rancho Olivos Arebequina
Rancho Olivos Italian
Olio Nero Del Gallo
Balzana
Figueroa Farms Italian
Figueroa Farms Camino al Ceilo
Figueroa Farms Organic
Flavored Olive Oils
Blood Orange Olive Oil
Garlic Olive Oil
Basil Olive Oil
Pesto Olive Oil
Italian Herb
Porcini Mushroom Olive Oil
Butter Olive Oil
Chipotle Olive Oil
Lemon Olive Oil
Habanero Olive Oil
Jalapeno Olive Oil
Gourmet Vinegars
10 Year Balsamic Vinegar
25 Year Balsamic Vinegar
Blackberry Balsamic
Pomegranate Balsamic
Chocolate Balsamic
Cranberry Pear Balsamic
Saba Balsamic
Apple Balsamic
Strawberry Balsamic
Honey Ginger Balsamic
Tangerine Balsamic
Blueberry Balsamic
Lemon Balsamic
Peach Balsamic
Wine Vinegars
Chardonnay Vinegar
Pinot Vinegar
Rose Vinegar
Syrah Vinegar
Pear Champagne
Gourmet Food