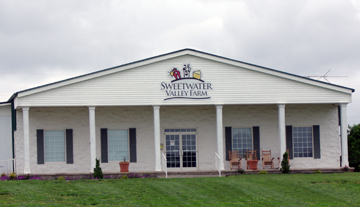 Sweetwater Valley Farm
Philadelphia, Tennessee

Sweetwater Valley Farm is located in the Sweetwater Valley region of Tennessee. John Harrison, owner, has provided a great place for adults and children to visit to learn about dairy farming and cheesemaking.
A gift store provides a large selection of cheeses to browse with large windows showcasing the production of Sweetwater cheese while it is being produced. In addition to cheese, shirts and cheeseboards are available.
View the Cheesemaking Process
January-June: Cheese is made on Wednesdays
During other months of the year cheese is made less frequently
When cheese is made on Wednesday, cheese curds are ready to be purchased at 4pm.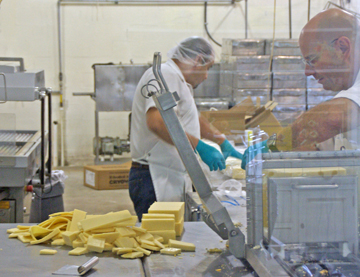 The Udder Story in the Educational Barn
A large barn was renovated and now serves to tell the story of cheese from the cows to the finished product. Both children and adults will enjoy meandering through the large barn now renovated with displays and explanations of the cheese making process from what the cows eat through the cheesemaking process. The experience makes a excellent educational experience for families, school children and other groups.
Tours
Visitors are encouraged to take a walking tour. Walking tours are available March through October. School and other groups are encouraged to register, visit and take a tour. For more information contact the creamery.
Events Barn
Onsite a large barn has been renovated. Consider hosting a reunion, anniversary, business meeting or wedding in the events barn.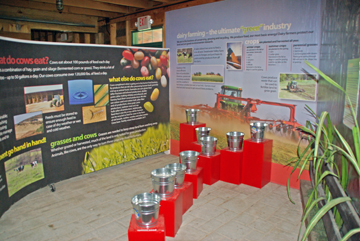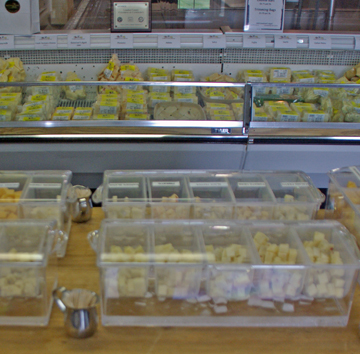 Cheese Varieties
Adobo
Black Pepper
Buttermilk
Colby
Curds
Fajita
Farmers Fresh
Fiery Fiesta
Garden Blend
Gouda
Habanero
Hickory Smoked Gouda
Hickory Smoked White
Hickory Smoked Yellow
Italian Pest
Jack
Jalapeño
Onion and Chive
Pepperoni
Pimento
Roasted Garlic Pepper
Salsa
Tomato Herb
White Cheddar
Yellow Cheddar
Location
Sweetwater Valley Farm
17988 West Lee Hwy.
Philadelphia, Tennessee 37846
Availability of Cheese
Sweetwater Farm Valley cheese is available in the onsite gift shop, numerous winery gifts shops and online.
Online cheese lovers can choose from an array of cheese, gift baskets, cutting boards, crackers, sauces and jams. What an easy way to do your shopping!