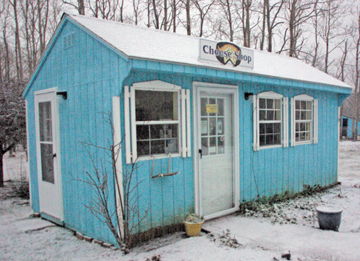 Catapano Dairy Farm
Peconic, New York

Catapano Dairy Farm on Long Island's North Fork is a boutique, goat dairy specializing in producing artisan goat cheese and specialty skin care products.
During the open season from spring through fall, visitors to Catapano Dairy Farm will be delighted with the tiny, boutique cheese shop. Painted with a robin's egg blue and white trim the building itself is enticing. Not too far away a large barn is home to the goats with a separate section for cheese making. During a January visit, while the dairy was closed, we saw perfectly formed wheels of cheese aging.
Catapano Dairy began with 18 goats on a smaller property. In 2005 a larger property went up for sale and Karen and Michael Catapano, owners of Catapano Dairy, purchased it. They added a large barn with solar panels. The dairy now has 100 doe goats. Michael is a medical doctor and also the cheesemaker. Karen noted that in making cheese, Michael is very precise.
They learned the business from the ground up including how to raise goats and make cheese. In 2005, Michael entered a cheese competition and won first place in the country. People began requesting the cheese.
Karen and Michael concentrate on providing good nutrition for the goats. Goats are provided with organic alfalfa and grains. Karen noted that this is very expensive but increases the quality of the cheese. Catapano Dairy cheese is consistent in taste and quality because the sheep are always fed the same high quality nutrients.
The sheep are milked two times a day. Tours are available for groups of 10 or more including school groups. Tours include an interactive milking demonstration, cheese sampling and a bar of goat milk soap.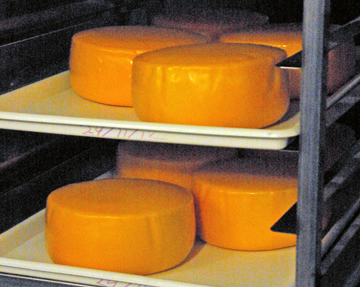 Catapano Products
Goat Cheese
Farm Fresh Chevre
Herbed Chevre Roll
Feta Alfresco
Fresh Whole Milk Ricotta
Gently Aged Gouda
Goat Milk Yogurt
Goat Milk Fudge
Skin Care Products
Premium Goat Milk Soaps
Specialty Bars
Shaving Bars
Bath & Body
Goat Milk Hand & Body Crème
Cuticle butter
Face Crème
Undereye Crème
Spa Baskets
Includes wicker basket, goat milk hand and body cream, matching soap and a body wash
Catapano Dairy Farm opens for the season in the spring. The dairy closes for the winter months however some of their products are available online.
Catapano Dairy Farm
33705 North Rd (County Rte 48)
Peconic, New York 11958
GPS: N41º 02.980' W72º 27.719'