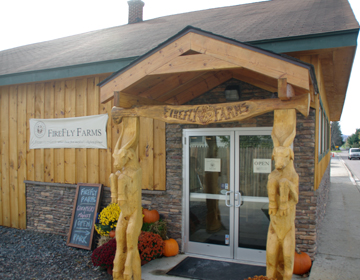 Firefly Farms Creamery
Accident, Maryland
Firefly Farms Creamery creates several varieties of goat cheese with goat milk sourced from local farmers. Located in western Maryland in the small hamlet of Accident, visitors will be greeted by two large posts carved with goats. Inside, the creamery offers views of the cheesemaking process through two large windows.
The creamery began when Mike Koch and Pablo Solanet, bought a 130-acre farm and raised goats. In 2006 the goats were sold and the owners began focusing on creating award winning goat cheeses. The new creamery building in Accident, Maryland opened in July 2011 with the attached market opening in October 2011.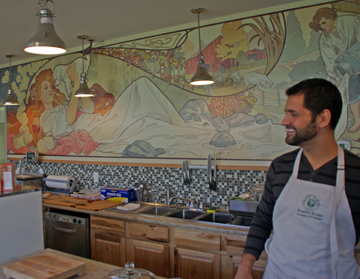 Small cheese tastings are available and served on crackers. The light crackers add to the cheese tasting experience. While tasting cheese enjoy the beautiful wall artwork. Cheese lovers can buy Firefly Farms cheeses by the ounce.
The creamery produces a variety of goat cheeses including lightly flavored to the stronger cheeses such as Black & Blue. After many years, the cheesemaking process is down to perfection. Pablo mentioned that now the Firefly Farms Creamery is focused on maintaining consistent award winning quality. Many of the cheeses have won national and international awards.
Firefly Cheese Notes
All Firefly Farms cheeses are pasteurized.
The softer the cheese the stronger the flavor.
Ash goes well with goat cheese
The more rennet the faster the mixture coagulates.
Curds are cut to cause more surface area. This helps the liquid to have a way out. As the curd shrinks, it loses water and weight.
Mold causes cheese to be more flavorful and the cheese to become creamy
Availability
Currently the creamery produces 100,000 pounds of goat cheese. Firefly Farms Creamery cheeses can be found in local stores, restaurants and several Maryland winery tasting rooms. Regional Giant Food and Whole Foods stores also sell Firefly Farms brand of cheeses.
Firefly Farms Creamery has been so successful and appreciated that the cheese is sold before it is produced.
Enjoy a visit to Firefly Farms Creamery where you will be warmly welcomed and have the opportunity to taste and purchase cheese. Travelers to Deep Creek Lake and Wisp Mountain will want to stop by to purchase cheese and other gourmet products in the tasting room.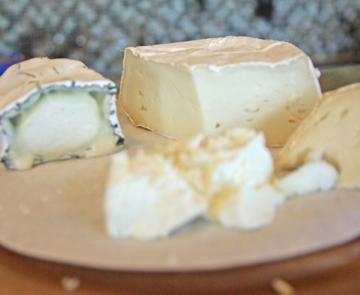 Cheese Products
Allegheny Chevre, an unripened cheese, is a best seller. The cheese can be used in pasta dishes or crumbled on a fresh salad.
Merry Goat Round is an Italian-style cheese. This cheese can be used for cooking and is good by itself. Merry Goat Round has won many awards.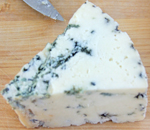 Black & Blue is aged for three or four months. The wax rind of the cheese is black. Like the Merry Goat Round, it can be used in cooking or served on a cheese board.
Buche Noire is an aged chevre log. To finish, the Buche Noire it is covered with a vegetable ash and aged.
Cabra LaMancha, meaning goat from La Mancha, is good on crackers. Since it also melts it is good to use in cooking.
Mountain Top Bleu is a cheese with bleu and white mold. The characteristics include growing softer as it ripens. The cheese is good for cooking or eating alone.
Bella Vita is an Italian-style cheese. This cheese is good for use in cooking or eaten alone.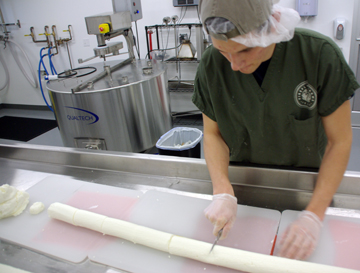 Other Gourmet Items
Pablo, also a chef, carefully chooses the other products on the tasting room shelves. He takes pride in selecting quality foods that include wines from boutique wineries. Take time to browse the shelves and perhaps discover some unusual gourmet items such as olive oil potato chips.
Firefly Farms Creamery
107 South Main Street
Accident, Maryland
GPS: N39º 37.683' W79º 19.189'