Chapel's Country Creamery
Easton, Maryland
Chapel's Country Creamery, located on Maryland's beautiful Eastern Shore, is in the small town of Easton. The creamery is the first cheesemaking facility in Maryland permitted to use raw milk in producing cheese. Owned by Eric and Holly Foster, the creamery is an added-value extension to their dairy farm. Sixty Jersey, grass fed cows, provide the milk for the cheese. Holly, the cheesemaker, believes that Jersey cows provide the best cows' milk for cheesemaking because of its high percentage of fat. She laughs as she recounts the story of the first Jersey cow that she received as a Christmas present. The milk is all natural as it does not contain synthetic hormones and antibiotics.
Holly traveled to California to study cheesemaking. Now she is producing several cheeses including blue cheese and a cave-aged cheese. Chapel's Country Cheddar cheese is produced in Pennsylvania by an Amish artisanal cheesemaker. Holly also makes yogurt.
Holly is quick to talk about the lifestyle of a farming family, noting all the benefits of living on a working farm and a creamery. The family has healthy food easily available and everyone has chores to do.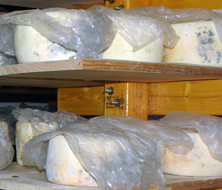 Tours available at the creamery include countryside views of Jersey cows, a few goats and chickens. Visitors can see the equipment in the creamery including the cheese vat as well as the cheese aging room. At Chapel's Creamery, feta is aged for two months and blue cheese for three months.
As with winemaking, Holly mentioned that cheeses can fluctuate from year to year and season to season. The flavors and nuances of the cheeses are dependent on the grasses available for the feed and the culture chosen from the thousands that are available.


Talbot Reserve, Bay Blue, Chapelle Cheddar
Tours: By appointment only for groups of ten or more. A fee includes samples of the cheese products.
Chapel's Country Creamery
10380 Chapel Road
Easton, Maryland
GPS: N38 50.061 W76 00.333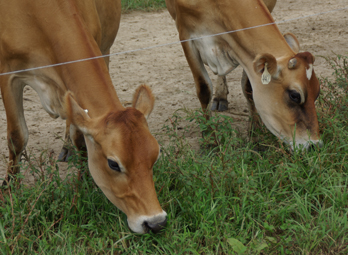 Jersey cows' milk has a high fat content.
Cheese Varieties
Talbot Reserve

Talbot Reserve was cream colored. This cheese was aged for one year. The nuances included some earthy hints with a soft cheddar aftertaste.

Bay Blue


Bay Blue is a blue cheese with a mix of cream and blue-gray coloring. The cheese has a touch of salt with the typical blue cheese taste. The aftertaste offered notes of blue cheese.

Chapelle Cheddar
Chapelle, a cream color, had mild nuances.
Garlic & Chive Cheddar
Chapelle Cave-Aged
Availability
Chapel's County Creamery cheeses can be discovered and purchased at several festivals and farmers' markets. The cheeses can also be found at a variety of shops in Maryland, Delaware, and the District of Columbia.
Cheese can also be purchased on the Chapel's Country Creamery online store.