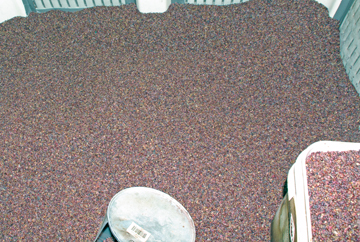 Joseph's Estate Winery
Niagara-on-the-Lake, Ontario, Canada
Joseph Pohorly, Ph.D. is a man of many talents and interests. One of his latest interests is grape seed oil. While on vacation in Florida, Pohorly noticed Italian grape seed oil being sold. That sparked his interest and ultimately research into producing grape seed oil. In addition he was interested in the possible health benefits of grape seed oils. After years of research and work, Pohorly produces grape seed oil available in the Joseph's Estate Winery tasting room.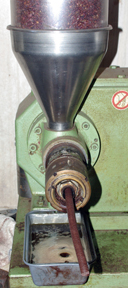 From Seed to Oil Process
Pohorly uses a cold press method for producing the oils. A large amount of grape seeds are necessary to produce grape seed oil. With so many wineries in the Niagara-on-the-Lake region, plenty of grape seeds are available. Once the seeds have been collected and dried (pictured above), the seeds are put into a grinding machine, which extracts the oil from the seeds. The solid part is called a cake. At the time of our visit, Pohorly was sending the cake to farms to mix with feed for animals.
The resulting oil is placed in stainless steel tanks waiting for bottling.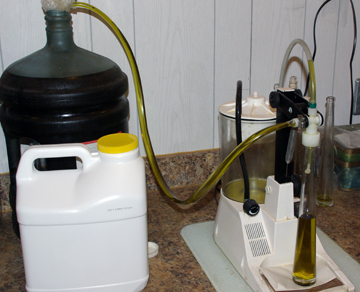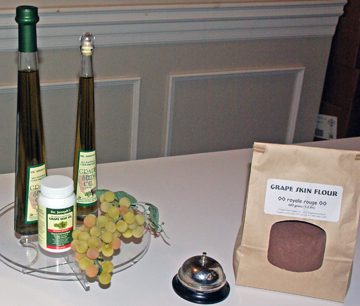 Joseph's Estate Products
Grape Seed Oil
All Natural Cold Pressed Grape Seed Oil
Grape Skin Flour
In addition to the production of the unique grape seed oils, Pohorly also makes gluten-free flour from grape skins. Visitors to the tasting room will discover red and white grape skin flour.
While visiting the tasting room to discover grape seed oils, ask about the possible health benefits of grape seed oils. Browse the many interesting displays throughout the tasting room. Stop and taste some of the wines produced by Joseph's Estate Winery.
Address:
Joseph's Estate Wines/Joseph's Natural Products
1811 Niagara Stone Rd. (Hwy. 55)
Niagara-on-the-Lake, Ontario
Tasting Room Hours
June – October: 10am – 7pm
November – May: 10am-6pm