My favorite to-go-to cheese for pairing with wine is the Manchego cheese sold at our local Costco store. I discovered Manchego a couple of years ago and find that its flavorful but delicate taste pairs well with white or red wines. Some suggest pairing the cheese with Sherry. Manchego taste profile does not overpower the yummy taste of the wine.
Curious about the origins of Manchego cheese, my research provided some interesting information about Manchego:
Manchego is produced in the La Mancha region of Spain.
The cheese must be produced with milk from Manchega ewes.
Manchego may be made with unpasteurized or pasteurized milk.
Traditionally Manchego cheese is aged for six months to 24 months.
The rind of the cheese is a dark gray color with a slight zigzag weave.
The natural rind of the cheese can be washed, covered with paraffin  and dipped in olive oil. Other clear materials that are approved may also be used on the rind.
Manchego cheese has  Spain's "Denominación de Origen" protection.
The EU has designated Protected Designation of Origin for Manchego cheese.
Studies have shown that Manchego cheese was made back during BC's Bronze Age.
The length of time for aging the Manchego cheese results in different flavors.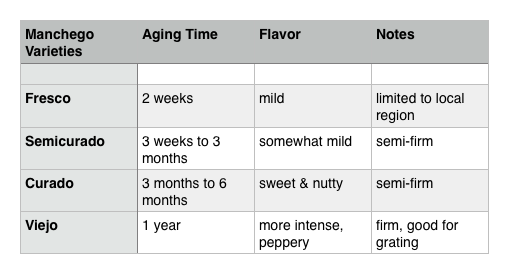 A few weeks ago, we served Manchego cheese with wine. Our guests decided that the rind on the cheese was edible; later an internet search revealed that the rind of the Manchego cheese is considered inedible. Fortunately our guests suffered no ill effects from eating the rind; however, I would not recommend eating the Manchego rind.
Cheers!
Kathy